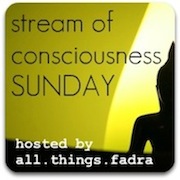 My soon-to-be-ex-husband has been missing since Thursday.
I don't know how I should feel about it, but I know how I do feel about it:
Angry.
Annoyed.
Worried.
Frustrated.
Scared. (but only for selfish reasons, and only a little bit)
More than likely, he's secluded himself from the world to explore a new high, to escape the pain he's caused, and maybe a small part of him hopes that he'll just fade away, never to return.
Fortunately (Unfortunately to him?), he has people who love him and are looking everywhere for him. A very small part of me is sad for him, a very small part. I'm sad because he has an amazing talent with woodworking, he's intelligent, he's able-bodied, and rather than harnessing these qualities and putting them to use in a productive way, he chooses to focus on his past and the negative in his life. While he has an overwhelming amount of sadness and struggle in his past, I believe there are people with scarier skeletons, and much angrier demons haunting them, but then again, how well did I really know this man? How well do I really know his past? The answer to that may very well be, not at all.
The larger part of me is feeling the opposite of what I probably should be feeling. Most people you care about would fall into the category of sympathy and sadness, but I'm so far beyond those feelings. As a Christian, that bothers me, but I know that God doesn't expect us to put ourselves in positions of pain nor does he expect us to yoke ourselves with people who will only drag us away from Him. He asks us to treat others as we wish to be treated, and I have followed that rule with Ryan. I have put myself in harm's away for this man, I have lifted him up, I've helped him in every way imaginable, including checking him into, now, three mental institutions, twice voluntarily, for even more help. I can't quite explain what it feels like to check a loved one, especially your husband, who is supposed to be your protector and lover, into a mental hospital. It's surreal and to encompass those feelings in one word is impossible.
I digressed. (Shocking.)
The larger part of me is angry. I'm angry at him for worrying the people who are still in his corner, who will continue to fight for him as he refuses to fight for himself. I'm angry at him for making this story even harder to explain to our children one day. Thinking about his eternal nonexistence makes my blood boil. It just pisses me off. How fucking selfish can he be? He's already torn our family apart, he's left miles and miles of broken road in his wake, and rather than manning up and doing the right thing, he chooses to make it worse. I have very little sympathy for those who refuse to help themselves, especially when they've been given opportunity after opportunity to receive help. I get it, I do. I used to be like that. Wallow, wallow, wallow. Woe is me. It got me nowhere.
Choosing to be happy in the midst of struggle? That's changed my life. I'm able to see above the fog, have hope in what's to come, and receive help without feeling guilty. Someday, I will have the opportunity to give back to people, as much as, and hopefully even more than, I have been given. God allows us to walk these halls for a reason, and it's not because He enjoys watching us struggle. He enjoys watching us grow. He enjoys seeing us on our knees, because He loves coming to our rescue. Our God is a chivalrous man. A true Knight in his glorious shining armor. Clinging to that has brought me further into peace and quickly out of despair.
So, I worry, but only because he is a man I once gave my heart to, a man I wanted to spend the rest of my days with. He was a man I cared for, and tried to nurse and/or mother into adulthood. I don't see it as my failure. He made a choice, and in order to protect my children and myself, I had to make another choice. Sitting where I am now? It was a damn good one.
I'm moving on, and it's okay. It's okay!
Is it weird if I pray during #SOCSunday? I know I'm already way over my time. (Again. Shocking.)
Dear God,
I come to you today in humble reverence of your power to do good in the lives of those who don't believe. I ask that you will go alongside Ryan, wherever he is, and serve as protection against those who wish harm upon him. I pray for his strength, Mighty God, that you will instill in him a spirit of will to stand up and fight against that which oppresses him. I pray for his family who love him and care for him, that you will comfort them and provide them with hope and clarity in a situation that is so hopeless and confusing. I pray for our children, our sweet, innocent, beautiful babies, God; I pray you will serve as their Father, as it is apparent that your guidance in their lives will be more than necessary. I pray for those Ryan has hurt, including me, my family, his family, friends, acquaintances, and beyond. I pray you will heal these hearts, Lord. That you will open our minds to understand Ryan's dark mind, to have sympathy, and in some cases empathy, but God, I also pray you will protect us from more pain. Allow us to heal and move on while you work on Ryan's spirit. I believe in the power of walking alone with You, and I believe that Ryan has to take the journey. Thank you God, for my support system of wonderful and caring friends and family. Thank you for lifting me up on the days when my spirit has been most broken. Thank you for catching every tear and promising to replace them with smiles. Thank you for providing laughter, fulfillment, and true joy. Thank you for allowing me to be a witness of your love and the outstanding work you can and will do in our lives if we will only let you in.
I pray all of these things in your Awesome and Holy name.
Amen.
~*~*~*~*~
This was my 5 minute Stream of Consciousness Sunday post. It's five minutes of your time and a brain dump. Want to try it? Here are the rules…
Set a timer and write for 5 minutes.
Write an intro to the post if you want but don't edit the post. No proofreading or spellchecking. This is writing in the raw.
Publish it somewhere. Anywhere. The back door to your blog if you want. But make it accessible.
Add the Stream of Consciousness Sunday badge to your post.
Link up your post at all.things.fadra.
Visit your fellow bloggers and show some love.